KVGM "The Last Wave" (7/31/22)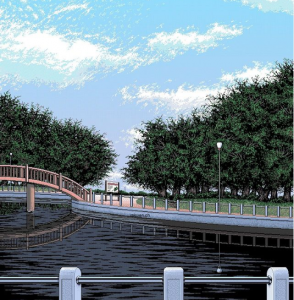 Do you hear that sound? Can you feel it? The cool ocean breeze in your hair, the salt on your tongue. It's the smooth crash of the Last Wave on KVGM with your host, Hammock, bringing you thirty minutes of the best video game jams(z) from all your favorite composers and consoles, each and every week from our beachside studio in sunny Aqua City Island. Sit back, relax, and get ready to catch…the Last Wave.
Hammock's away on vacation for the next two weeks so leave a message…and enjoy the jams.
Playlist
Field (Arranged) – Hiroyuki Namba
(Dragon Slayer: The Legend of Heroes, Sega Mega Drive)
Dancer Selection – John Hancock
(Private Dancer, PC)
Uta's Theme – Dr.LOVE
(PaPiKoN~Futago No Musume Wa Dou Kyousei~, PC)
Diary of the Dream Castle by the Lake – Akira Tsuchiya
(Atelier Marie, Elie & Anis: Message on a Gentle Breeze, Game Boy Advance)
Ordering Party Food – Kazumi Totaka
(Wii Food Service Channel, Nintendo Wii)
Onnanoko Tachi (Type II) – Toshihiko Sahashi
(Love Love?, PC)
BGM 4 – Unknown
(Gachapin Challenge DS, Nintendo DS)
Green (Ending) – Tadayuki Ito
(Love Escalator, PC-98)
Special Request
It's So Cool!! – Minako Adachi
(Half-Minute Hero, Sony PlayStation Portable)
Podcast: Play in new window | Download