KVGM "The Last Wave" (2/27/22)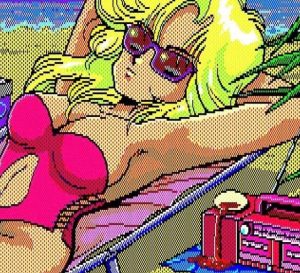 Do you hear that sound? Can you feel it? The cool ocean breeze in your hair, the salt on your tongue. It's the smooth crash of the Last Wave on KVGM with your host, Hammock, bringing you thirty minutes of the best video game jams(z) from all your favorite composers and consoles, each and every week from our beachside studio in sunny Aqua City Island. Sit back, relax, and get ready to catch…the Last Wave.

This week, we hit up some old favorites, explore some new favorites, speculate on underwater levels, imagine golf games where there aren't any, play soccer, King of Fighters, and even take a special request from Hammock's wife. All that and more on this week's Last Wave.
Playlist
Projector Nocturne – Shun Narita
(Our World is Ended., Sony PlayStation Vita)
Horoscope – Tsukasa Masuko
(The Caligula Effect: Overdose, Nintendo Switch)
Title – Akiko Goto
(Mujintou Monogatari, Super Famicom)
Options – Toshihisa Furusawa
(Captain Tsubasa: Ougon Sedai no Chousen, Nintendo GameCube)
Underwater Dreams – Satoshi Aoki
(Extreme Power, Sony PlayStation)

Double Boogie – T's Music
(Sousaku Alice to Oujisama!, Nintendo 3DS)
BGM 16 – Barbarian on the Groove
(120-en no Haru, ¥ 120 Stories, Sony PlayStation 2)

Ending – Sky – Hideki Asanaka
(The King of Fighters XI, Arcade)

Special Request

Roll Me In – Hideki Tobeta and Yui Asaka
(Katamari Damacy, Sony PlayStation 2)
Podcast: Play in new window | Download