KVGM "The Last Wave" (3/27/22)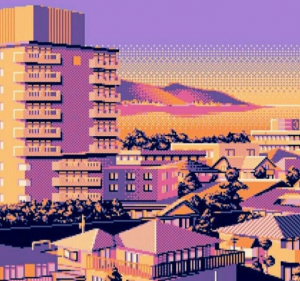 Do you hear that sound? Can you feel it? The cool ocean breeze in your hair, the salt on your tongue. It's the smooth crash of the Last Wave on KVGM with your host, Hammock, bringing you thirty minutes of the best video game jams(z) from all your favorite composers and consoles, each and every week from our beachside studio in sunny Aqua City Island. Sit back, relax, and get ready to catch…the Last Wave.

More jams for cool kids in the house looking to jam out with the cool kids in their life. Even if you're not cool, that's okay, these jams don't discriminate. They gesticulate. We've got scared drunk mechs, pensive detectives, messenger girl jams, CHARMSTONES!, apartment ooh la las, magic cards (not Magic cards), soccer, even a little GoldenEye action for children of the 90s. All that and much much more. 
Playlist
Annita – Toshiaki Tanaka
(Afraid Gear, Sony PlayStation)
Deep Inside Me – Keith Freeman
(Anata wo Yurusanai, Sony PlayStation Portable)
Track 4 – PANDA
(Melody: Koi no Messenger Girl, PC)
BGM 4 – Hideki Yamamoto and Ryo Kasai
(Cosmetic Paradise, Nintendo DS)
Wish – Unknown
(My Apartment Romance, Android)

A Crisp Morning – Takayuki Negishi
(Card Captor Sakura: Tomoyo no Video Saisakusen, Sega Dreamcast)

Credits – Tsutomu Ogura and Harumi Ueko
(International Superstar Soccer 64, Nintendo 64)

Land of Pureness – Shinichi Sakamoto
(Clockwork Aquario, Arcade)

Special Request

007 Watch Theme – Graeme Norgate and Grant Kirkhope
(GoldenEye 007, Nintendo 64)
Podcast: Play in new window | Download