KVGM "The Last Wave" (5/29/22)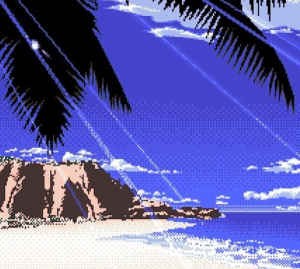 Do you hear that sound? Can you feel it? The cool ocean breeze in your hair, the salt on your tongue. It's the smooth crash of the Last Wave on KVGM with your host, Hammock, bringing you thirty minutes of the best video game jams(z) from all your favorite composers and consoles, each and every week from our beachside studio in sunny Aqua City Island. Sit back, relax, and get ready to catch…the Last Wave.
This week, business as usual as we feature more jams from more games composed by more composers but next week's episode will be extra special, as the Last Wave will be participating in the cross-promotional event, the Masters of VGM. Throughout the month of June, VGM podcasts will be selecting their favorite four composers who are masters of making video game music. As for us, you know we're looking to represent the certified JAM MASTERS. Stay tuned!
Playlist
Slow Jam – Le Bop
(Cities: Skylines, PC)
Angel's Smile – Naotoshi Nishino
(Metamor Fantasy SP, PC)
Main Menu – Noriyuki Iwadare
(Kanji no Wataridori, Nintendo DS)
BGM 7 – Sound AMS
(Suto Mani: Strobe Mania, Sony PlayStation Portable)
Bay Area – Naofumi Hataya
(Astro Boy: Mighty Atom, Sony PlayStation 2)
Replay – Toshiyuki Takine
(Ito Hatasu Rokudan no Shogi Dojo, Super Famicom)
Camping Night – Atsushi Kitajoh
(Persona 5 Strikers, Nintendo Switch)
Credits – Masakatsu Maekawa
(Expert, Sony PlayStation)
Special Request
BGM III – Toshiki Konishi
(Persona 2: Eternal Punishment, Sony PlayStation Portable)
Podcast: Play in new window | Download