KVGM "The Last Wave" (1/30/22)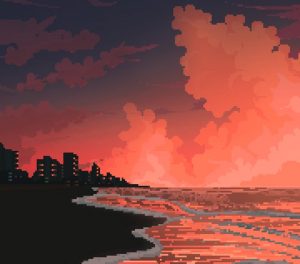 Do you hear that sound? Can you feel it? The cool ocean breeze in your hair, the salt on your tongue. It's the smooth crash of the Last Wave on KVGM with your host, Hammock, bringing you thirty minutes of the best video game jams(z) from all your favorite composers and consoles, each and every week from our beachside studio in sunny Aqua City Island. Sit back, relax, and get ready to catch…the Last Wave.
This week hasn't been a great week for old Hammock but we've got some sweet jams to distract, including aquarium simulation, Gundam chill, viznovz, and dating in style.
Playlist
Morning Dream – Tsutomu Ishigaya
(My Aquarium, Nintendo Wii)
Natural (Mode Select) – Mikio Masuzawa
(Runabout 2, Sony PlayStation)
Cloudy Cloudy – Shuntaro Koguchi
(The Legend of Heroes: Kuro no Kiseki, Sony PlayStation 4)
Operation Room ~ Mission – Hiroyuki Iwatsuki and Iku Mizutani
(SD Gundam G Generation SEED, Sony PlayStation 2)
Mimosa Please!! – SONO MAKERS
(Making*Lovers, PC)
No Place to Hide – Toshiaki Otsubo
(Triangle Again, Microsoft Xbox)
Hidamari – Rage Kisaragi
(Friends, PC)
Credits – Naoko Ishii
(Hikaru no Go 2, Game Boy Advance)
Special Request
Village Without Memories – Noriyuki Kamikura
(Opoona, Nintendo Wii)
Podcast: Play in new window | Download