KVGM "The Last Wave" (4/24/22)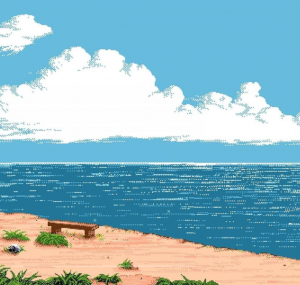 Do you hear that sound? Can you feel it? The cool ocean breeze in your hair, the salt on your tongue. It's the smooth crash of the Last Wave on KVGM with your host, Hammock, bringing you thirty minutes of the best video game jams(z) from all your favorite composers and consoles, each and every week from our beachside studio in sunny Aqua City Island. Sit back, relax, and get ready to catch…the Last Wave.
Lots of BACKGROUND MUSIC this week, with some unknown composers (no thanks to the KVGM Summer Interns). But you know, that's okay…because the music more than makes up for the lack of information. We've got horse tracks, tourism tracks, picross tracks, powerful grandpa tracks, mahjong tracks, basketball beat 'em up tracks…even a little visual novel to check the boxes. If you want to help the summer interns by completing some of these "unknowns", please reach out – kvgmradio@gmail.com. Help us help you.
Playlist
BGM 69 – Ryuji Nishida
(A-Train: All Aboard! Tourism, Nintendo Switch)
BGM 1 – Yuka Tsujiyoko
(Picross S3, Nintendo Switch)
Mini-Game – CUBE Co.,Ltd
(Zettai Zetsumei Dangerous Jiisan: Shijou Saikyou no Dogeza, Game Boy Advance)
Ending – Unknown
(Shuukan Gallop: Blood Master, Sony PlayStation)
Shopping – Masafumi Ogata
(Angel Snow, PC)
BGM 5 – Yasuyuki Suzuki
(Street Jam, Arcade)
Quiz Puzzle Edit – Hiroshi Ebihara
(Puzzle Guzzle, Sony PlayStation Portable)
Staff Roll – Jun Enoki
(Super Real Mahjong PV Paradise: All-Star 4-Nin Uchi, Super Famicom)
Special Request
Red Tie – Hiroto Saito
(POWER DoLLS 3, PC)
Podcast: Play in new window | Download