KVGM "The Last Wave" (1/23/22)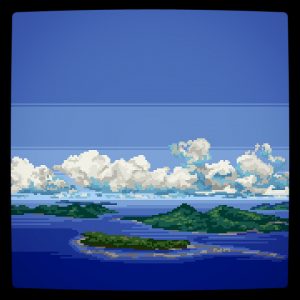 Do you hear that sound? Can you feel it? The cool ocean breeze in your hair, the salt on your tongue. It's the smooth crash of the Last Wave on KVGM with your host, Hammock, bringing you thirty minutes of the best video game jams(z) from all your favorite composers and consoles, each and every week from our beachside studio in sunny Aqua City Island. Sit back, relax, and get ready to catch…the Last Wave.
This week, we're heading back to the virtual greens for a round of 18, as well as Ren & Stimpy skateboarding, planetarium simulation, viznovs, a classic SNES RPG that Hammock's actually beaten, and of course, an appearance by none other than MegaMan.exe. We've also got new merchandise available in the KVGM store, featuring the #1 sports team, the Aqua City Windjammers. 
Playlist
Title – Shoichiro Hirata
(Eikou no Fairway: Virtual Golf Simulation, Sony PlayStation)
Yagami Detective Agency – Hyd Lunch
(Judgement, Sony PlayStation 4)
Central Town – Yoshino Aoki
(Mega Man Battle Network 6, Game Boy Advance)
Offstage – Reo Inaba and Kenji Miyamoto
(Go! Go! Hypergrind, Nintendo GameCube)
Distant Temperature (from "Winter Constellation") – Kazuyuki Maruyama and Teruhiko Nakagawa
(Planetarium Creator Ohira Takayuki Kanshuu Homestar Portable, Sony PlayStation Portable)
Premonition of Crush – Ryuichiro Fujisawa, Terugon, Ichiro Endo, and Tatsuo Nishizono
(Branmarker 2, PC-98)
Fresh Morning – HIR, Ryo Kasai, and Dani
(Canvas3 ~Hakugin no Portrait~, PC)
To the Sky – Yasunori Shiono
(Lufia II: Rise of the Sinistrals, Super Nintendo)
Podcast: Play in new window | Download